Where will the Toronto Raptors finish next season? Power Rankings for the NBA's Eastern Conference
Where will the Toronto Raptors finish next season? Power Rankings for the NBA's Eastern Conference
Toronto Raptors vs. San Antonio Spurs
Last season went surprisingly well for the Toronto Raptors. After a 6 - 12 start to the season, including a humiliating loss to the Golden State Warriors after leading in the fourth quarter by 27 points, many Raptors fans took to Twitter and Facebook to call for a major lineup and even coaching change. If this were any other Raptors season, the suffering would have continued until the end of the season. The difference now is that management has changed since, and GM Masai Ujiri is now at the helm.
After what could be considered a season - changing loss, Ujiri pulled off a blockbuster trade; sending the struggling Rudy Gay, Quincy Acy and Aaron Gray to the Sacramento Kings for Greivis Vasquez, Patrick Patterson, John Salmons and Chuck Hayes. This brought in lesser - known talent but more financial flexibility for the upcoming offeseason.
Some fans saw this as a "white flag" for the season, that the Raptors would essentially lose on purpose (read as: tanking) in order to position themselves for a potential number one pick in the upcoming draft. How fitting that would have been, since the top prospect is the Canadian Andrew Wiggins.
The opposite happened. The Raptors actually started winning and finished 3rd in the Eastern Conference, only to be beaten in the first round of the playoffs by the Brooklyn Nets in an exciting seven games. The trade proved to boost the Raptors bench up to the point that it could match the productivity of its starting lineup. The chemistry between the new and current players was undeniable, and the Raptors are poised to repeat, if not, exceed the success they attained last season.
Here is a summary of the Raptors' offseason moves:
Re - Signings: Kyle Lowry, Patrick Patterson, Greivis Vasquez
Returning Players: Jonas Valanciunas, Terrence Ross, Demar DeRozan, Amir Johnson, Chuck Hayes, Tyler Hansbrough, Landry Fields, Dwight Buycks
Additions: Bruno Caboclo, Lou Williams, Lucas Nogueira, Diante Garrett, James Johnson
Losses: Steve Novak, Julyan Stone
Entering the offseason, Toronto needed to keep their top free agents Lowry, Patterson and Vasquez. They also needed to add interior and wing defenders, especially since they were in the lower half of the league in blocks least season. They did what they needed to do. They kept the free agents and added James Johnson and Lucas "Bebe" Nogueira, who are wing and interior defenders, respectively. Additionally, with the 20th pick in the draft, they took a gamble on Bruno Caboclo. Dubbed the "Brazilian Kevin Durant", Caboclo has tremendous upside since he is so young (born in 1995) and already has commendable skills. The roster limit is 15 players but since they have 16, they will likely waive Diante Garrett, who was acquired in the trade with the Jazz for Steve Novak.
If everything goes as it did last season, the Raptors would end up 3rd again. However, other East teams have made their moves and look to make a push deeper into the top 8. Here are PanamericanWorld's predictions for the NBA's Eastern Conference with last year's position in brackets. This will be updated as free agency goes on:
Note: The three division leaders and the team with the next best regular season record take the top 4 spots. The order is determined by record.
Playoff Teams (1st - 8th)
1. Chicago Bulls, 1st in Central Division (4th in East last year)
The Bulls were 4th in the East last year without Derrick Rose for the majority of the season. He's coming back this season, they drafted sharpshooter and college star Doug McDermott and they are upgrading their PF position from Carlos Boozer to Pau Gasol. They lost DJ Augustin to the Pistons, but with Rose and Kirk Hinrich coming back, this should be a non - issue. Tom Thibodeau remains the best defensive coach in the league and his stern practice atmosphere and non - nonsense attitude should quickly get new players to adjust.
Photo by: ballermindframe.com
2. Toronto Raptors, 1st in Atlantic Division (3rd in East last year)
Why not? Only the Raptors are keeping the same starting lineup among last year's top 5. Their win percentage after last year's trade was .667 which, when translated to an 82 game season, gets them 54 wins. That's equal to how many games the Miami Heat won last year, and that's with their Big 3 of LeBron James, Chris Bosh, and Dwyane Wade intact. Led by one of the best backcourts in the league in Kyle Lowry and Demar DeRozan, the Raptors core are all in their prime or entering their prime, with only Chuck Hayes being older than 30. Their division poses a modest threat, as Brooklyn and New York may rise out of mediocrity. The Raptors luckily benefit from a weak division, whereas the Bulls, Cavaliers and Pacers share the Central division. This team's grit - and - grind style should handle any type of offense it encounters and is the main reason why they succeeded last year, so that should be the same this year. Also, Magic Johnson himself tweeted that the Raptors could win the East. That has to count for something.
Photo by: thsportsbloggers.com
3. Cleveland Cavaliers, 2nd in Central Division (10th in East last year)
Any team that signs LeBron James is automatically a contender. Cleveland was already an intruiging team after the signing of Kyrie Irving and the drafting of Andrew Wiggins, but with the addition of James and the continued development of Dion Waiters and Canadians Tristan Thompson and Anthony Bennett, this team is now one of the most hyped in the NBA. It may take a while for the team to gel together because of the new players and the new head coach, David Blatt, but Cleveland should crack the top 4 this year, if they can overcome Dion Waiters reluctance to relinquish his starting role. They might have a better record than the Raptors or Wizards, but that is dependent on the team's ability to play together, which has not yet been tested. Will James fulfill his promise of bringing a ring to Cleveland?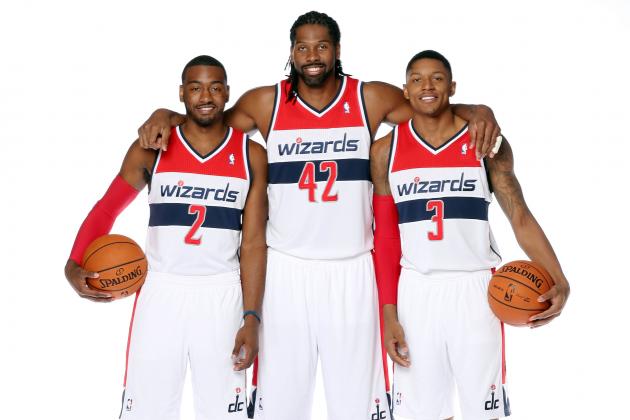 Photo by: bleacherreport.com
4. Washington Wizards, 1st in Southeast Division (5th in East last year)
The Wizards are one of the best teams in the East even after the loss of Trevor Ariza because of the signing of Paul Pierce. Nicknamed "The Truth", Pierce is a NBA Champion with the Boston Celtics and a prolific and crafty scorer. Though he may be on the last contract of his career, he still showed he can perform well, especially in the clutch, in the playoffs. Raptors fans should remember his block against Kyle Lowry to save the series very vividly. John Wall and Bradley Beal have emerged as one of the best backcourts in the league, Marcin Gortat and Nene are a solid frontcourt and Kris Humphries is an upgrade over Trevor Booker on the bench.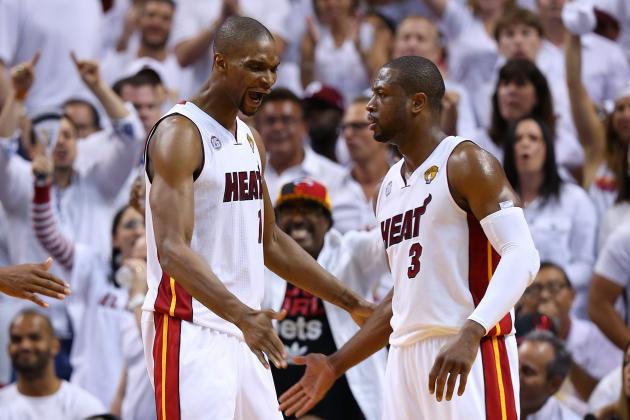 Photo by: bleacherreport.net
5. Miami Heat, Second in Southeast Division (2nd in East last year)
And then there were two. The departure of LeBron James seems to have Miami in recovery mode. GM Pat Riley immediately went to work, resigning Chris Bosh to a max contract, signing Danny Granger, Josh McRoberts, Luol Deng, Chris Andersen and Mario Chalmers to short - term contracts and drafting UConn star Shabazz Napier. They will also likely offer Dwyane Wade a $15 million per year deal. This team may not have LeBron anymore, but they should be looked at as if they never had him in the first place. On paper, this team looks better than it is now perceived. This will be a big challenge for Wade and Bosh to prove that they can win together and especially for Wade to reassume command of the only team he has ever known.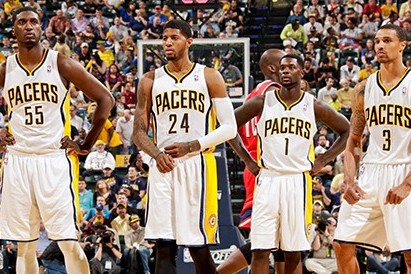 Photo by: bleacherreport.com
6. Indiana Pacers, 3rd in Central Division (1st in East last year)
Are they falling from grace? The Pacers just lost Lance Stephenson and even though his attitude stung the team a bit, his play definitely helped them. Additionally, the confidence of this squad in their abilities was questioned after last year's playoffs collapse. After trading Danny Granger for Evan Turner, the Pacers' season went on a downward spiral. Then there was that report that Stephenson and Turner got into a fight during practice. Additionally, there are also rumours that Roy Hibbert would be traded this offseason. This team was slated to make the Finals last year. There is still a lot of talent on this team, especially with Paul George becoming a star in the league, but can they resolve their issues?
7. Charlotte Hornets, 4th in Southeast Division (7th in East last year)
Charlotte is going back to its roots. After 10 years of being the Bobcats, it is refreshing to see the Charlotte Hornets back in the NBA, especially the previous name is considered in many NBA circles to be synonymous with losing (The Bobcats have never won a playoff game in franchise history). With big man Al Jefferson and point guard Kemba Walker leading the way, the Hornets are set to reclaim their former glory. Let us also not forget that they just signed the enigmatic Lance Stephenson to a three - year deal. Draftee Noah Vonleh is a great complement to Jefferson, as he has shown the ability to shoot from the perimeter and has great defensive potential. The loss of Josh McRoberts is then mitigated by this. Michael Kidd - Gilchrist and Gerald Henderson accompany Stephenson on the wings and provide athleticism. Photo by: fansided.com
8. Atlanta Hawks, 3rd in Southeast Division (8th in East last year)
One cannot help but feel bad for the Hawks. They have reached the playoffs for 7 straight seasons but could never get past the 2nd round. Al Horford is the cornerstone of the franchise, having led his team to the playoffs his entire career save for last year when he was sidelined for majority of the season. He will be healthy by the start of next season, and so will Jeff Teague, Kyle Korver and Paul Millsap. They signed Thabo Sefolosha away from the Oklahoma City Thunder in order to shore up their perimeter defense and they drafted Adreian Payne who adds frontcourt shooting and athleticism. This team has the odds stacked against them, but they still may break their second round curse.
Just missed the cut (9th - 10th):
Photo by: rantsports.com
9. New York Knicks, 2nd in Atlantic Divison (9th in East last year)
By resigning Carmelo Anthony, the New York Knicks have ensured that they will be playoff contenders. They downgraded their center position and upgraded their point guard position by trading away Tyson Chandler and Raymond Felton to the Dallas Mavericks for Canadian - Haitian Samuel Dalembert and "Raptor at heart" Jose Calderon. The principle behind this is to allow for a more fluid execution of what can only be assumed as an extension of owner Phil Jackson's "Triangle Offense" through rookie head coach Derek Fisher. Although not overly - complicated, this offense does take some time to master and the Knicks will see this transitory period end up in either an early first round exit or being lottery - bound.
Photo by: nj.com
10. Brooklyn Nets, 3rd in Atlantic Division (6th in the East last year)
The Brooklyn Nets, Toronto's playoff nemesis, have arguably gotten weaker with the departure of Paul Pierce, their main clutch performer. Kevin Garnett is on his last wheel and Deron Williams is not the same player he was four years ago. Brook Lopez will come back healthy this season, but his durability has always been questionable. Only Joe Johnson has been a consistent performer for the Nets, who have also lost head coach Jason Kidd to the Milwaukee Bucks. His replacement, Lionel Hollins, a defensive - minded coach, has much work to do if he wants his aging, offense - oriented squad to be a defensive powerhouse, much less a playoff contender.
On the outside looking in (11th - 15th):
Photo by freep.com
11. Detroit Pistons, 4th in Central Division (11th in the East last year)
The Pistons have not been a playoff team for six seasons. That is not likely to change next season and the fans have grown weary (Detroit attendance is consistently towards the bottom of the league). Andre Drummond is a defensive force inside, but has a way to go offensively. Greg Monroe, who will most likely re-sign with the team, is a versatile developing big man who has a decent mid - range shot and deft passing skills. Josh Smith is still athletic as ever, yet he chucks three pointers with the accuracy of a Shaquille O'Neal free throw. Stan van Gundy, the mastermind behind the Dwight Howard - led Orlando Magic teams that relied on kicking the ball out to sharpshooters, is now pressed to repeat that success with a roster that needs tweaking. Brandon Jennings, like Russell Westbrook of the Oklahoma City Thunder, is more of a "points guard" than a "point guard", but his shooting ability is something van Gundy can build on.
Photo by: shawsports.net
12. Boston Celtics, 4th in Atlantic Division (12th in the East last year)
The drafting of Marcus Smart, the athletic, defensive - minded floor general who lacks a reliable jumpshot, could spell trouble for Rajon Rondo, who came back last year from an ACL injury and performed below his standards. Avery Bradley was a bright spot last season, as the undersized defensive ace greatly improved his offensive game. Jeff Green is their most reliable scorer, and he does a decent job at it. Head coach Brad Stevens will have to look to further develop big men Jared Sullinger and Canadian Kelly Olynyk if he wants his team to become a playoff contender. With Rondo's future in doubt (as it consistently has been for the past two seasons), the Celtics will need to focus on developing the tools they have to become a playoff team.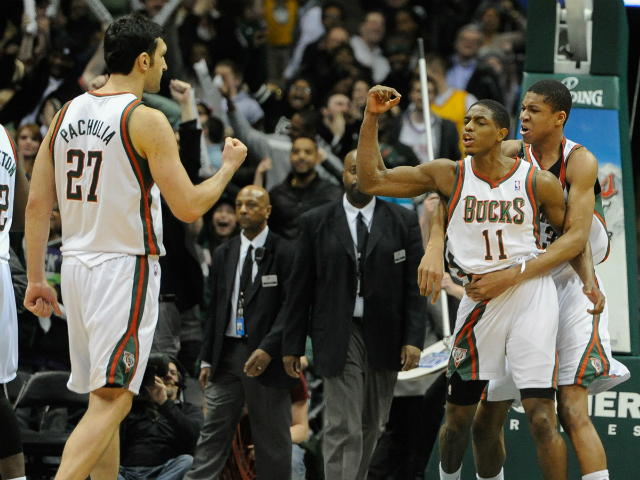 Photo by: gmanetwork.com
13. Milwaukee Bucks, 5th in Central Division (15th in the East last year)
The Bucks were literally the worst team in the NBA last season, so there truly is no where to go but up. Brandon Knight is the team's best player for now, and while he missed 26 games last season, his averages mostly rose from his previous season, becoming a reliable scorer and playmaker. Jabari Parker, the second overall pick in this year's draft, offers a glimmer of hope for the struggling franchise. Parker should contribute right away and is a favourite to win the Rookie of the Year award. He has an NBA body, is a great scorer and a team player, though his defense needs some work. Giannis Antetokounmpo is a great prospect that needs a few more seasons to make a great impact. Larry Sanders, the long post defender, disappeared behind injuries and off - court issues after he got his payday last season. Newly - appointed head coach Jason Kidd has a clean slate to work with as there is not much pressure on him to succeed immediately.
Photo by: sbnation.com
14. Philadelphia 76ers, 5th in Atlantic Division (14th in the East last year)
The good news: Nerlens Noel is finally going to play. The bad news: Joel Embiid will not. Philadelphia is a franchise that is looking to develop its young players. Noel is a high - energy defensive big man that performed well in the Summer League. Third overall draft pick Embiid has the potential to become the next Hakeem Olajuwon or Tim Duncan. Sophomore point guard Michael Carter - Williams is athletic and has a good all - around game, but needs to work on his jumpshot. Thaddeus Young is a "stretch 4", a big man who can shoot and run the floor, but it does not look like he will be staying for long. Dario Saric, also acquired from the draft, is a highly - intelligent big man who can initiate plays and score and could take Young's place soon. This team will use the season to figure how best to play with each other. Trying times are ahead.
Photo by: squarespace.com
15. Orlando Magic, 5th in Southeast Division (13th in the East last year)
The Magic traded their most accomplished player in Arron Afflalo back to his original team the Denver Nuggets in exchange for the raw swingman Evan Fournier and the rights to Roy Devyn Marble. This also saved them cap space. Elfrid Payton was acquired in the trade with the 76ers for Saric and he plays with a high - intensity on defense. Tobias Harris, Andrew Nicholson and Nikola Vucevic make up the developing frontcourt of this young team. Victor Oladipo is coming along nicely with an all - around game, though when paired with Payton in the backcourt, their perimeter shooting will struggle. The Magic drafted Aaron Gordon this year, and he, like Payton, plays with high - intensity and tremendous athleticism. There is no pressure on the Magic to win this year, since they are stacked with up - and - coming players, so they will definitely experience growing pains this year.
PanamericanWorld Startups
PanamericanWorld Business