Whatever it takes to keep the Big 3 together
Whatever it takes to keep the Big 3 together
AP Images
During his pre-offseason press conference on June 19, Pat Riley was asked about the preferred methods to retain his stable of superstars, three players with a combined seven championships and 29 All-Star appearances. That's when some other trios, and a duo, rolled off the Heat's president tongue, where clearly he'd had them teed up.
"Whatever they want to do," Riley said of LeBron James, Dwyane Wade and Chris Bosh. "However we can keep those guys together, OK? However we can keep those guys together. (Larry) Bird, (Kevin) McHale, (Robert) Parish, together. (James) Worthy, (Magic) Johnson, (Kareem) Abdul-Jabbar, together. (Michael) Jordan, (Scottie) Pippen and Horace Grant or another, together..."
That other, for the Bulls' second run of three championships, was Dennis Rodman.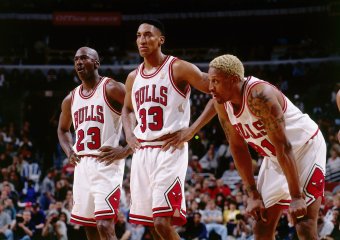 Andrew D. Bernstein/Getty Images
"(Tim) Duncan, (Manu) Ginobili, (Tony) Parker, together," Riley continued. "OK? Shaq and Kobe (Bryant), together. Shaq and, oh, excuse me, Kobe and (Pau) Gasol and another together."
That other was Lamar Odom, even if the core of that Lakers' squad wasn't together that long.
"Whatever it takes to keep them together, we're ready for," Riley continued. "That's our objective. That's my push to them. All of those guys stayed together and in their worst moments, and I just mentioned to you a number of times that they lost, they just allowed management to retool, let's bring this back together, this doesn't happen often, and let's stay here and let's try to keep this thing going."
There's something else, though, that Riley didn't say, something that separates this Heat trio from so many of their predecessors, something that should serve as a meaningful part of their legacy, especially if they stay together long enough for history to classify them as a collective.
It's something that has the potential to aid, or perhaps even undermine, Riley in his efforts to retain all of them—rendering him more of a spectator than he has been portrayed, in this space as well as others.
It's something that wasn't supposed to be possible in the modernNBA age, especially after the owners slammed through a new collective bargaining agreement intended, at least in part, to limit labor's influence—and specifically on the top players' ability to construct and maintain superteams.
It's something called control.
PanamericanWorld Startups
PanamericanWorld Business