Canadians in the 2014 NBA Draft
Canadians in the 2014 NBA Draft
While basketball was created by Canadian James Naismith in 1891, it does not necessarily mean that the country has produced most of the great players of the sport's storied history. In fact, Steve Nash, one of the most accomplished Canadian basketball players of all time, is only one of three non - American players to have won the NBA MVP award; the others being Dirk Nowitzki of Germany and Hakeem Olajuwon of Nigeria.
Hopefully, this year's NBA Draft can change all that. There are already some Canadian players in the NBA right now, such as Tristan Thompson of Toronto and Andrew Nicholson of Mississauga, but there is a lot of Canadian talent that can already rival theirs.
During the 2014 NBA Draft happening on June 26, 60 players' will be chosen and up to 7 of them will be Canadian. Let us take a look at the Canadian prospects waiting to hear their name called:
Photo by: sports.yahoo.com
1. Andrew Wiggins (Small Forward, 6'8", 200 lbs.)
Wiggins has been the consensus no. 1 overall pick for over a year already and though media hype can bloat perspectives quite a bit, this is not the case for him. Originally from Thornhill, Ontario, the 6'8" forward has lived up to expectations during his time with Kansas. His athleticism and offensive/defensive potential are what put him above the consensus no. 2 pick, Jabari Parker. Wiggins' play style has been compared to a Canadian favourite in Vince Carter and his athleticism is compared to that of LeBron James.
Likely landing spot: First Overall pick.
Photo by: twothreehoops.com
2. Nik Stauskas (Shooting Guard, 6'7", 207 lbs.)
This "smooth - as - silk" three - point shooter is second on our list, and for good reason. He averaged 17.5 ppg for Michigan as a sophomore and earned Big 10 Player of the Year honours. His skill is comparable to other shooters such as Kyle Korver or JJ Redick. He is not a one - trick - pony, though. He has shown the ability to pass the ball and run pick - and - roll plays. In today's NBA, he will be a valuable catch - and - shoot player for potent offenses.
Likely landing spot: Lottery (8th - 14th pick).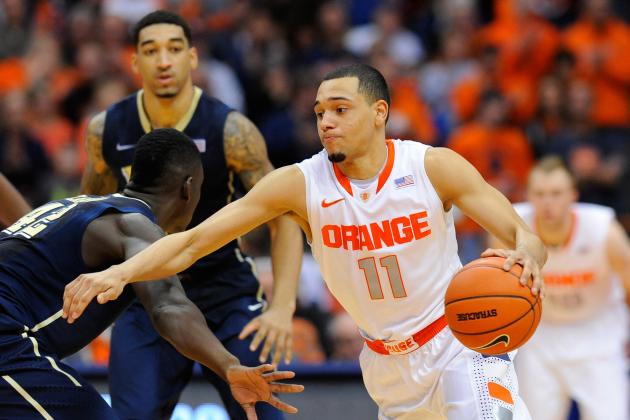 Photo by: bleacherreport.net
3. Tyler Ennis (Point Guard, 6'2", 180 lbs.)
Ennis is from Brampton, Ontario who spent his freshman year at Syracuse. He has shown the potential to be a true point guard in the NBA, which is rare because most point guards in the league today like to do the scoring themselves (cue Russell Westbrook). Ennis likes to set - up plays for others and ensures his teammates are involved in the game. He also has the knack for driving past defenders and into the paint. While lacking in toughness and athleticism, his leadership and point guard skills are comparable to Kyle Lowry's.
Likely landing spot: Mid - to - Late First Round (16th - 23rd pick)
Photo by: sfexaminer.com
4. Dwight Powell (Power Forward, 6'11", 234 lbs.)
Powell exhibited great athleticism and a decent faceup game during his four seasons with Stanford. The Torontonian has some potential but needs to convert perimeter jumpers at a higher rate (only 0.74 points per possession) if he wants to be considered elite - level talent. He is compared to Mason Plumlee.
Likely landing spot: Second Round (45th to 50th pick)
Photo by: runrebs.com
5. Khem Birch (Power Forward/Center, 6'9", 210 lbs.)
Birch, from Montreal, Quebec, is a wiry, defensive - minded player. He proved this by winning the Mountain West Conference Defensive Player of the Year for two straight years. His stock could have risen if he added muscle. Still, he has shown good quickness as he gets off the ground early and runs the floor well. He has been compared to Toronto Raptors favourite Jerome "Junk Yard Dog" Williams.
Likely landing spot: Late Second Round (51st to 57th pick)
Photo by: northpolehoops.com
6. Jordan Bachynski (Center, 7'2", 254 lbs.)
Hailing from Calgary, Alberta, Bachynski is one of the tallest players available in the draft. His great size can make him a decent backup Center in the league. He can provide picks for teammates and is one of the best shot - blockers in the draft. However, he needs to develop an offensive game if he will be considered a viable threat in the low post. He is compared to Aaron Gray.
Likely landing spot: Late Second Round (55th - 60th pick)
Photo by: northpolehoops.com
7. Melvin Ejim (Small Forward, 6'6", 220 lbs.)
Ejim is from Brampton Ontario. He is a physical player with a knack for collecting rebounds. On the offensive end, he has shown a decent touch with his outside shooting. His offensive capabilities are hindered, however, by a lack of dribbling skills as he has shown to be unable to drive past defenders. This is unfortunate since he is a great finisher at the rim. His strengths are comparable to those of Metta World Peace.
Likely landing spot: Late Second Round (55th - 60th pick)
The 2014 NBA Draft is the deepest we have seen in years in terms of talent. It will be interesting to see how it plays out and where these seven players will actually be drafted. One thing is for sure, from the looks of these prospects, Canada basketball is on the rise.
Main photo by: o.canada.com
PanamericanWorld Startups
PanamericanWorld Business