Bringing startup culture to Toronto City Hall
Bringing startup culture to Toronto City Hall
City of Toronto
Diverse, innovative and liveable, Toronto attracts entrepreneurs who chose to start and grow their businesses here. The City of Toronto consistently ranks as one of the best city in the world, in which to live and work. However, embracing entrepreneurship can be a tough challenge for the City Hall, given the bureaucracy which stifles innovation and stalls important projects.

Civic innovators, leaders and entrepreneurs gathered to discuss the importance of bringing that startup mentality to the City Hall at MaRS Discovery District this Monday night. Mayor John Tory opened the event with a few words on the progress the municipal government made to adopt some of the key tenants of startup culture. "Startup mentality starts with the City Hall itself. We're ready to take some risks and make changes. We've dealt with an incredibly complicated, controversial issue of ground transportation to give people options; we're working with a committee to fix the frustrating registration system for recreation; food tracks is another example of a positive change; and we will keep bringing about changes in a more proactive way," said Tory.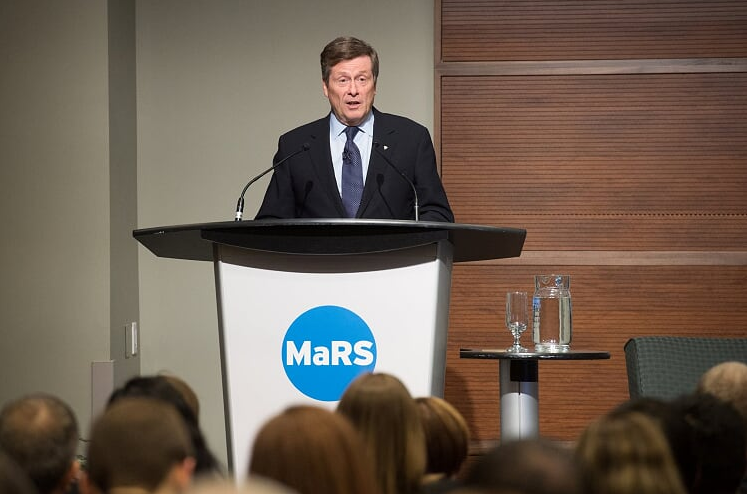 "I was incredibly proud to go represent our city recently in Silicon Valley, China, and Japan. We think differently, and it put us on the list of the most prosperous cities in the world. Changing the way our city does business is about attracting people and keeping the startups here. If we're to be prosperous going forward, that change is fundamental to the maintenance of our way of life. We need to make sure we stay on top and remain the prosperous city."

Tracy Cook, Executive Director, Municipal Licensing and Standards with the City of Toronto agreed that the City can try to do things differently, and send the right message to be seen as a place that welcomes and embraces the startup culture. "We talk about engaging and collaborating, and we have to show that we mean what we say. This community needs to see that there's a commitment here, and as a city, we need to get behind the city's commitment, put our words in action and make very deliberate, distinct and noticeable improvements," Cook said.

Joeri van den Steenhoven, Director, MaRS Solutions Lab started off with saying that both public servants and startup entrepreneurs share certain similarities: they work very hard with too few resources, and they try to create something useful. The differences lie in the bureaucracy and with startups, the key is in the agility. Startups venture outside of the routine, respond quickly to new developments, come up with the approaches, test them and if they don't work, toss them away. Joeri's team has released the Redesigning Regulation for the Sharing Economyreport and talked to the existing operators, Uber drivers, citizens, looking at the public value that the right policies would create. In order to be effective at policy making and governance, the City Hall should refocus towards the people, for whom the policies are being developed, according to Joeri.

Dorothy Eng, Co-Founder, Civic Tech Toronto and Account Executive, Architech called on the City to start with open data and work from there to build trust with entrepreneurs who want to building solutions for the community and solve civic challenges. "The government releasing the data it is collecting on citizens will give entrepreneurs a way to solve civic problems," said Eng. "If that data is not available, entrepreneurs are discouraged from attacking the city problems."

Brian Donlan, EVP at Cisco commended the Mayor on the Uber decision, and on the idea of bringing startup culture into City Hall. "The very fact that we're at an event where we talk about the startup culture, and that we're hosting it at a location like MaRS suggests to me that the elements of the startup culture already exist in City Hall," said Donlan, urging the Mayor to accelerate the pace of change.

What sets startups apart is their understanding that it's key to be agile, open-minded and being able to fail and learn from your failures, according to Hossein Rahnama, CEO and Founder, Flybits. "Those are the cultural shifts that would liberate the huge potential within City Hall," Rahma said. "We have a tremendous opportunity in the city and the time is now to take that opportunity."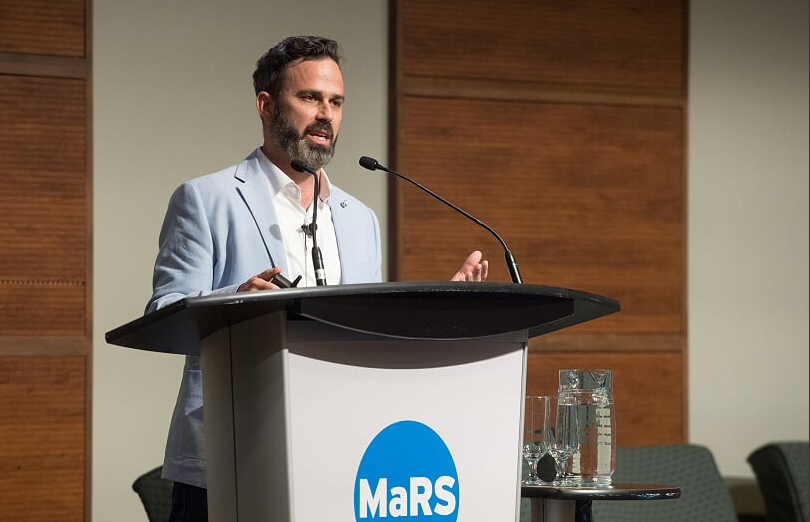 Startup City: Inspiring private and public entrepreneurship

The author of Start-Up City, Gabe Klein inspired the entrepreneurs, civic leaders, industry practitioners and innovators with numerous examples of effecting big change in cities, quickly. Moreover, that pace of change is paramount, according to Klein. In his address, Klein focused on several key ideas:
The world is urbanizing, but the growth is levelling off. "In just 20 years in Shanghai they built an entire city. We talk about environmental assessments for 26 years. Singapore's transit system is profitable. In Coppenghaagen, everyone walks and bikes everywhere, and incredible public transportation infrastructure. Because you just can't fit that many people into cars," Klein said. "Cars are not the future of transportation."
Mobility as a service. Governments can serve as the organizer, the platform, and healthy public-private multi-jurisdictional partnerships are a key to success.

Repurposing of space.

It's important to try things and set the expactations accordingly for the public and council, to collect the data required to make informed decisions. Klein gave an example of bike lanes project in Pennsylvania, for which nine private companies were testing their equipment on the streets. "There are ways to run government like a startup, and startups need to be more responsible," Klein said. "If you build bus lanes, bike lanes, car lanes, people will come - it will affect their choices. Complete streets and induced demand is an important part to redesigning streets for people."

Prioritize people, not modes of transportation.

Our cities have got to work for people first. Embrace and invest into creating spaces that are safe for people, and optimize for happiness. Think about how our streets could look, give sidewalks to people, give bikes space, and give space to parks. When we look back at the present times from 2020, we will say - wow people used to drive around, running people over, killing others, spending time in traffic. We're facing a major change. And those who do not believe it will be left behind.
Change management: it's about death and rebirth. Entire industries will be gone, household names will be gone The way people are living will change. Modular construction is an example of that. Think what it means to be able to 3D print an iPhone, get used to the idea of self-driving cars. We need to build more flexibility, design more flexible business models, and work with an open mind.
PanamericanWorld Startups
PanamericanWorld Business