Big Museum on the Prairie: The Remai Modern and Saskatoon
Big Museum on the Prairie: The Remai Modern and Saskatoon
View of the South Saskatchewan River from a third-floor gallery at the Remai Modern, September 2015. Photo: Matt Ramage.
After serving its community for 51 years, Saskatoon's Mendel Art Gallery closed in June 2015. An exhibition called "The Fifth World" was the last to grace its walls. Curated by Wanda Nanibush, the exhibition showcased the work of 11 emerging and mid-career Indigenous artists from across North America. It was presented by the 20-year-old Tribe Inc., a local itinerant artist-run centre that partners and collaborates with galleries to put focus on Indigenous art. ("The Fifth World" was Tribe Inc.'s eighth such collaboration with the Mendel.)
In one room, a volley of 50 handmade porcelain arrows, the work of Tlingit/Unangâx artist Nicholas Galanin, hung in an arch from the Gallery Three ceiling. It was the picture of precarity. According to its curator, "The Fifth World" referenced the Hopi prophecy of an impending choice between conflict and harmony, and, quoting writer Leslie Marmon Silko, "a new consciousness…that the earth is shared and finite, and that we are naturally connected to the earth and with one another."
Artist, curator and Tribe Inc. executive director Lori Blondeau remembers when she was on-site for installation. It was the first time Mendel CEO Gregory Burke, a New Zealander who had arrived in Saskatoon after six years at the Power Plant in Toronto, approached her to discuss the vision of the gallery that would replace the Mendel and the role of Indigenous art, artists and cultural workers there. "He kind of gave me hope," Blondeau says. And really, "The Fifth World" was a show about hope.
Now, the Mendel is an interzone. Gallery One is an extension of vault storage, a stopover for canvases and crates as they're prepared for the big move. Gallery Three has become Project Central. A long conference table holds the centre of the room; monthly planning calendars, floor plans and notepads decorate the walls where paintings once hung. Out the nearby office windows overlooking the South Saskatchewan River, about two kilometres upstream, just past where the river bends out of sight, construction is well underway on the Remai Modern Art Gallery of Saskatchewan, the Mendel's breathtaking $106-million successor.
Such an opportunity is with very few precedents, especially in Canada. A flagbearer of the city's South Downtown revitalization, the Remai Modern (pronounced RAY-mee, as in do re mi) is a postcard-ready, neo-modern facility comparable in size to the Musée d'art contemporain de Montréal, and roughly five times larger than the Mendel. Lead patron Ellen Remai, a commercial developer and property operator, has donated $16 million for its construction, while city, provincial and federal funding handles much of the balance. Alongside a $20-million gift of 406 Picasso linocuts, the largest collection of its kind anywhere in the world, Remai has given another $15 million for international programming over the next 30 years, set aside specifically to fund exhibitions that wouldn't have otherwise been possible in Saskatoon.
Burke is the gallery's director, and he has helped chart a vision that aims to develop the institution's national and international profile with an identity founded on ambitious programming. He wants the Remai to participate in the global discourse on contemporary art. "We want to be Canada's modern art museum," he says. But he also understands that this won't be some art-world Field of Dreams. There is no direct flight from New York to Saskatoon. The hometown crowd—a population of a quarter million people with nary a bigger city within a four-hour drive—will make up its core audience.
Saskatoon's local arts community is a bit like an old-growth forest: well established, tightly interconnected, vibrant. In the ecosystem of Saskatoon, the roles of the public institution are crucial and many. Much of the community is excited for the Remai's doors to open sometime in 2017. However, with limited institutional carryover from the Mendel, little communication about the flavour of programming to come and concerns about discrimination at the board level, some are having trouble seeing themselves reflected in the city's shiny new temple to art.
COMMANDING AN OUTSIDE BEND where the South Saskatchewan flattens out, the Remai Modern wraps in an L-shape around the Persephone Theatre at River Landing. Its large cantilevered stacks gesture west toward the Idylwyld Bridge, east in the direction of the Mendel and south over the river. It recalls Frank Lloyd Wright's iconic Fallingwater. KPMB architect Bruce Kuwabara says he was also thinking about super-functional proto-modern structures like grain elevators. Burke calls it Kuwabara's best work. The building's copper-coloured cladding will nod at the roof of the Bessborough, a grand château-style railway hotel less than a kilometre away and perhaps the city's most recognizable landmark. (Joni Mitchell immortalized it on the cover of her 1969 album Clouds.)
Up the third-floor stairway, competing with the screech of grinders and circular saws, Burke enthusiastically traces for our tour group's imagination a ribbon of white oak, yet to be installed, that will stretch in long steps from the ground-floor entrance up through the building's dramatic four-storey atrium. Along with galleries dedicated to performance works, the permanent collection, the Picassos and special exhibitions—with the largest 50 per cent bigger than an NBA basketball court—the facility also includes a learning centre, reception spaces, a theatre, a restaurant, a retail store and all of the back-of-house features a conservator, preparator or researcher might require. The Remai Modern wants to be the city's living room, so on the main floor a communal fireplace is being installed.
And what will fill those ample galleries once it's opened? The Remai has kept mum on programming, at least until the building's delivery date is in view. You can expect, Burke teases, reference to the 13 paintings Fred Mendel gifted to the gallery in 1965, or perhaps the William Perehudoff murals he'd had commissioned. "It's paramount we acknowledge that history," Burke says, but, to be certain, the Remai Modern will have its own distinct identity. That's what attracted him to the project: an "opportunity to build a new brand from the ground up."
Remai planted a flag in the soil when she purchased the Picasso linocuts, Burke explains. "She said, 'I want this gallery to engage on the international level.'" And that aspiration is reflected in its institutional mission. "Remai Modern," the statement begins, "is a thought leader and direction-setting modern art gallery that boldly collects, develops, presents and interprets the art of our time. Our mandate is to enable transformative experiences by connecting art with local and global communities." Burke says that within the first 6 to 12 months of opening, the gallery program will hit every note in its routine: local, national, international, Indigenous, contemporary and modern. Its first purchases, perhaps illustrative of what that mandate looks like in practice, were a photo installation by Vancouver-based Haida and Quebecois artist Raymond Boisjoly and Marat Sade Bohnice (2012), a video work by the Saskatoon-born and -raised Althea Thauberger.
If it sounds audacious that regional practitioners stationed in the Canadian prairies might affect the currents of the international art world, Burke reminds me that it's happened there before. Throughout the 1950s, '60s and '70s, artists such as Barnett Newman, Frank Stella and Anthony Caro travelled by invitation to the lakelands, 200 kilometres north of Saskatoon, to lead the Emma Lake Artist's Workshops, a series of annual summer art classes affiliated with the University of Saskatchewan Regina Campus. Beginning in 1955, professor and Regina Five artist Kenneth Lochhead proposed that if the world's art centres seemed inaccessible to Saskatchewan artists—who, at the time, only had a single gallery equipped to host travelling exhibitions—then perhaps they should invite outside artists in. "Bringing the mountain to Mohammed," some called it. And it worked. The great champion of Abstract Expressionism, critic Clement Greenberg, who led the 1962 workshops, later included Lochhead, and his fellow Saskatchewinian Arthur McKay, in a 1964 exhibition called "Post Painterly Abstraction" at the Los Angeles County Museum of Art. Writing to Lochhead, Greenberg—albeit a man known for epistolary hyperbole—called Saskatchewan "N.Y.'s only competitor."
Burke is of the mind that "you can be the best in the world anywhere in the world." It is something he learned as director of the Govett-Brewster Art Gallery in New Plymouth, New Zealand, a town with a population of less than 100,000. Even in a small city, he says, a dynamic program can attract attention. He admires influential off-centre institutions like the Walker Art Center and the Van Abbemuseum, though he understands that Saskatoon is neither Minneapolis nor Eindhoven. The Remai Modern's unique position, then, is to situate the work of Saskatchewan's robust arts community in dialogue with its national and international peers, to facilitate those sorts of conversations. The support of local artists is crucial, he says. "The gallery has to feel like home to them."
In October 2015, the Remai Modern hosted a symposium entitled Supercommunity Live, the last phase of a project initiated by influential artworld listserv and publisher e-flux for the Venice Biennale. Supercommunity Live considered, among other things, the McLuhanian idea that our concepts of community have grown increasingly abstract and transnational. The conference included a performance by Blondeau and Saskatoon-based Blackfoot artist Adrian Stimson called The Birds, The Bees, The Berries: "a celebration of life," Blondeau calls it, a meditation on interconnectedness. Burke reckons that if one fear of globalization is the loss of diversity to monoculture, perhaps there's also an opportunity for the reverse: to play local stories globally. That's the challenge the Remai Modern, under Burke's direction, has issued itself.
Alain Gaucher, chair of the Remai Modern board of directors, says Burke has a reputation as an institution builder. Christy Thompson, who was assistant director at Toronto's Power Plant during Burke's tenure there, describes him as a sensitive and thoughtful leader. He was a responsible fiscal manager, she says, who always thought seriously about what the institution could be, and developed a rapport with artists: "He'd take on projects that made a name for the Power Plant because we said 'yes.'" She lists Candice Breitz, Thomas Hirschhorn. "That builds an institution: making things possible for artists." Sandra Guimarães, who was appointed director of programs and chief curator of the Remai Modern in May 2015, and is a reputed brand builder herself for her work at the Serralves foundation in Porto, Portugal, says she followed Burke's work at the Power Plant. His involvement was part of what brought her to Saskatoon.
Others disagree with Burke's managerial style. Since he arrived at the Mendel, he's been the subject of workplace grievances. There's been turnover, in high-profile positions—about which, Gaucher confirms, the board received letters of concern from the community. "Part of the unenviable task I had in front of me in taking on the position of establishing the Remai Modern was to close the Mendel," Burke says. The new institution will be much larger—roughly twice the full-time staff—and it will have very different needs. "When you go through that level of change," he says, "feelings get hurt and you do whatever you can to be sensitive to that and to the stress of change." One could expect, says Sandra Fraser, the only curator left from the Mendel's curatorial department, that such significant transformation and growth would be challenging. "The old gallery and the new gallery are really two different businesses," Gaucher says. "And so, with that, there's change."
This difference deserves emphasis. In a good year, the Mendel could get 160,000 people through its doors. According to the Remai Modern's 2015–19 Business and Operations Plan, the new gallery anticipates 220,000 visitors annually. The Remai plans to charge admission ($12 for adults; $10 for students and seniors; free for children 12 and under), whereas the Mendel had no entry fee. For some residents, the new admission charge will be a dealbreaker. However, the plan imagines that fewer than 15 per cent of entrants will pay through general admission; others will visit for the sculpture garden or the restaurant or private events, for example.
The new gallery, with its fresh, fancy building, is angled to become a signature attraction for tourists. If just one in every 20 visitors to Saskatoon attended the Remai Modern, the gallery would already have nearly half of its projected attendance fulfilled. An impact study completed by the Saskatoon Regional Economic Development Authority found that between 2017 and 2019, the Remai Modern will contribute handsomely to the area: $17 million in annual GDP. It's positioned not only to have profound effects on the cultural life of the city, but on its economy, too.
A very different business indeed: one city councillor has already asked for a review of the staff's travel expenses; they're higher, the councillor notes, than other city-owned corporations like the SaskTel Centre, the city's venue for pro sports and big-name entertainment, where fans can take in a Saskatoon Blades game or maybe catch Janet Jackson on her recent world tour. The quibble seems illustrative of a dissonance about what exactly some parties think the Remai ought to be, and what it ought to do.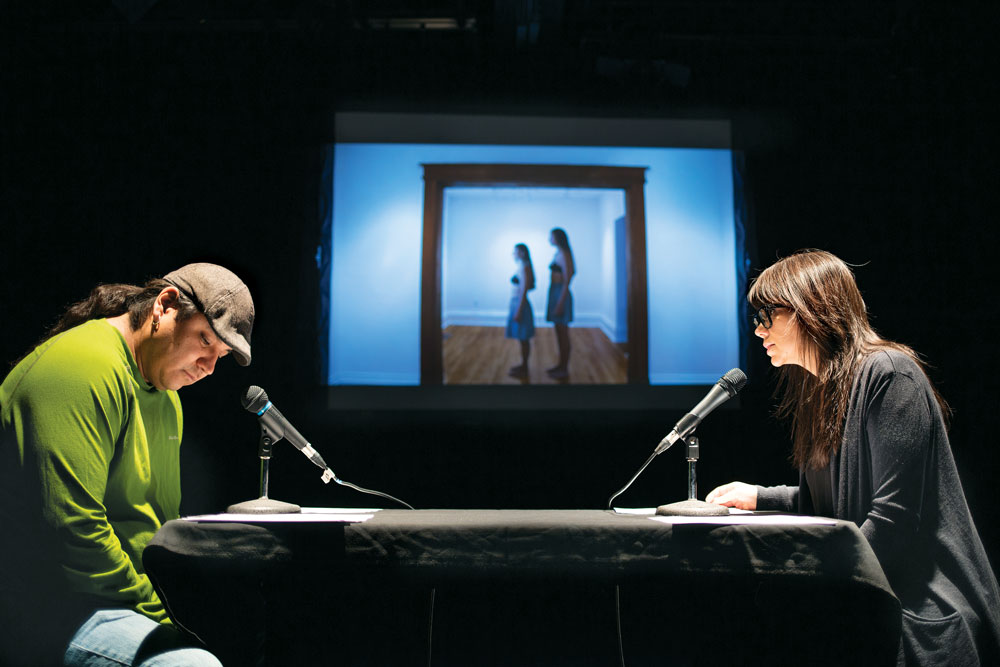 Randy Morin and Tanya Lukin Linklater rehearse the the at Studio 914 in Saskatoon as part of the Remai Modern's Pre-Launch Program, February 2016. Photo: Matt Ramage.
AN ARCHITECTURAL WONDER launched as the downtown's new riverfront face, the Remai Modern is emblematic of a changing city. "2.0 Saskatoon," the business plan calls it. Along 20th Street, a 10-minute walk from the gallery's doorstep, you'll find cheffy sandwich counters, shared office spaces and fussy espresso spots that know the difference between a macchiato and a cortado.
Riversdale looked much different when AKA Artist-Run and Paved Arts, two of the city's artist-run centres, purchased a shared location there eight years ago. In the time since, young entrepreneurs—many of whom decamped for big cities and have returned because Saskatoon makes a certain quality of life affordable—opened up gastropubs and vintage-clothing shops and patisseries. Seemingly, all at once, a generation decided they could live out their dreams there. A recent report said the city's population could double in the next 30 years.
Many of the new neighbours, however, are sensitive to the dangers associated with rapid gentrification. They share the neighbourhood with a host of social services—Core Neighbourhood Youth Co-op, Friendship Inn, White Buffalo Youth Lodge, Station 20 West—that care for the community that has long lived in Riversdale. Their work is vital, says Paved Arts executive director Alex Rogalski, and it's important to note that there's been investment and revitalization there, too. Though the window dressings might change, community and cooperation are values that run deep in the province's unique character.
Saskatchewan is a collaboration culture, he says. Saskatchewinians are treaty people (the province is covered by six different treaty territories). Tommy Douglas and the Co-operative Commonwealth Federation were the first socialist government elected anywhere in North America. The bones of universal healthcare began here. The Saskatchewan Arts Board was the first such agency anywhere outside Britain. Saskatoon's Shoestring Gallery and the Photographers Gallery—ancestors of AKA and Paved Arts—were among the earliest artist-run centres in the country. Tribe Inc. is founded entirely on the principles of partnerships and collaboration. There is a long history of collectivism there, a province-wide appreciation of the belief that people and organizations work best when they work together toward a common goal. And it's a milieu the Remai Modern would do well to recognize.
Artist Clint Neufeld remembers returning to Saskatoon after grad school in Montreal. He stopped into the Mendel one day and said, perhaps a bit naively, "Hey, I'm an artist. Can I talk to someone?" Would you believe it, a curator took him out for coffee. The staff there felt accessible, Neufeld says; they were interested in what was happening locally and advocated for Saskatoon's artists on a national level. It's through the connections he made there that he was shown at Toronto's Koffler Gallery or that he met his commercial gallerist or that his work was included in "Oh, Canada," the large 2014 show at the Massachusetts Museum of Contemporary Art. The Mendel curators, he feels, helped nurture his career. Burke and Guimarães took the time recently to visit his studio, he says. While the emphasis on international programming is exciting, he hopes that the Remai also continues that tradition of local support and accessibility, especially for younger artists.
Like Neufeld, artist, educator and former CARFAC president Grant McConnell is curious about the new gallery's commitment to local audiences, artmakers and art professionals. "If I'm at all critical," he says, "it's because I have great hopes for what this new Remai can be." A successful gallery knows where it is, he offers, and with few transmissions about inaugural programming escaping the gallery's upper offices, as well as limited carryover in Mendel staff, who had established trust with the community, he's worried that the Remai Modern's stated interest in local content might just be lip service. "It's their responsibility to be explicit—the Remai and the staff—about what's happening, instead of untying the bow on a brand-new package and saying, 'Surprise!' I don't think you do that with $100 million in expectations from the community." Given that perceived lack of transparency, he's wary of what he calls a "top-down directorship." Cultural institutions, he says, are better served by a flat management style, when responsibility and decision-making powers aren't centralized, but instead shared by all staff according to expertise.
Many stakeholders (Neufeld, McConnell, Blondeau, Stimson and Rogalski, as well as Saskatoon-based painter Tammi Campbell and AKA director Tarin Hughes) share, each in their own words, hopes about equitable representation at the gallery—namely that there are places for Indigenous trustees and curators. (Burke himself assures me that the institution will be making a big commitment to Indigenous communities, "addressing everything from the board down to the volunteers.") This is of utmost importance to many in the community. As far as Burke can tell, the Mendel only had one Indigenous board member in its 51 years, while Saskatchewan has one of the highest percentages of Indigenous people anywhere in the country.
One study projects that within the next 30 years, one-third of the province's population will be Indigenous. The Remai has been built smack dab in the middle of one of the most creative Indigenous contemporary-art movements in Canada, Stimson says. If the gallery is interested in representing Saskatchewan, to itself and to the world, then this work should be a priority. Since that initial conversation during "The Fifth World" install, the one that gave her hope, Blondeau hasn't been approached by Burke again to discuss partnerships, she says. Does that mean Tribe Inc.'s 17-year relationship with the Mendel has ended? She's uncertain.
In June, the Mendel will have been closed a year. The Remai might not open for nearly another. Such is the nature of a long engagement: all parties are compelled to examine their relationship extra closely. These are the hopes and fears of a community that is excited about the new gallery taking shape on the riverfront, but, also, a community that is afraid its public institution hasn't quite been listening all this time, only nodding along.